The Arch St. Project: Bioarchaeology of Colonial America
The burial ground of the First Baptist Church of Philadelphia (1707-1859) is one of the largest historic archaeology collections discovered on the east coast.  Over 400 remains of some of America's earliest European settlers were discovered and are currently being studied by researchers at The College of New Jersey (Dr. George Leader and Dr. Jared Beatrice).  The research, headed at TCNJ, also has co-collaborators at Rutgers-Camden, The Mutter Research Institute and University of Pennsylvania, Bryn Mawr, McMaster and Liverpool. The bones were discovered during the construction of a 2-story parking garage under a new high-rise apartment building. During excavation for the parking garage, bones began appearing, and layers of coffins were soon discovered.
When archaeologist finally were able to get access to the site bones were carefully excavated and transferred to the lab. TCNJ currently houses over 300 of the skeletal remains. This is a multi-year research project with student involvement through course work and independent research. The remains will eventually be re-buried at Mt. Moriah Cemetery, the intended final resting place of the Arch St remains.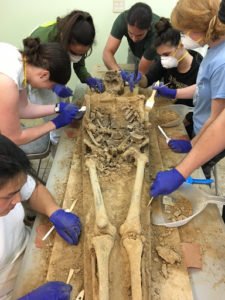 Students carefully excavate skeletal remains.