The Arch St. Project: Bioarchaeology of Colonial America
The burial ground of the First Baptist Church of Philadelphia (1702-1859) is one of the largest historic burial grounds ever rediscovered on the East Coast.  Over 400 burials of some of Philadelphia's earliest residents were discovered and are currently being studied by researchers at The College of New Jersey (Dr. George Leader and Dr. Jared Beatrice).  The research, headed at TCNJ, also has co-collaborators at Rutgers-Camden, The Mütter Research Institute and University of Pennsylvania, Bryn Mawr, McMaster and Liverpool. The burials were discovered during the construction of a 2-story parking garage under a new high-rise apartment building. During the developer's construction for the building, skeletal remains began appearing, and layers of coffins were soon discovered.
When archaeologists were finally allowed to access the site the burials, artifacts, and skeletal remains were carefully excavated. TCNJ currently curates some 300 of the skeletal remains.  The remains are being studied as part of large-scale, multi-disciplinary project to understand the lives, health, and culture in early Philadelphia. This is a multi-year research project with student involvement through coursework and independent research. In 2023 all the remains and artifacts will be reinterred at Mt. Moriah Cemetery, in the plot where they were thought to have been moved to in 1859.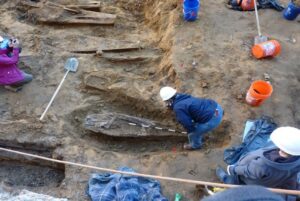 Team member examine a trench of coffins during the excavation in 2017.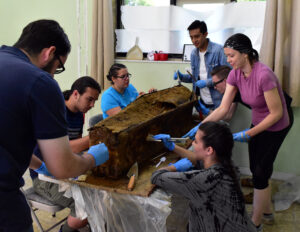 Student researchers examining a coffin